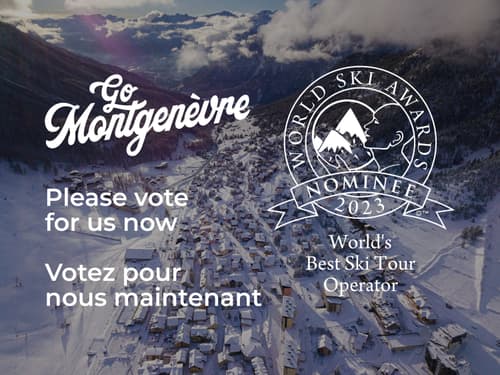 Guests
Great value

We live in Montgenevre all year round and have genuine relationships with suppliers and property owners. The large multi-resort companies cannot ensure the quality of service that we pride ourselves on. We pass savings we enjoy to our guests; that's why Go Montgenevre can offer such great value.
We Go the Extra Mile
Complete hosting. Delicious catering. Removing all the stress. We do whatever we can to make your holiday that bit more special and enjoyable.
We live Montgenevre
Living in Montgenevre all year round means we have great inside knowledge of the local facilities, the pistes, restaurants, and hidden Montgenevre experiences.
All Year Round
We are Montgenevre all year round and have built a successful business on word of mouth alone. We love providing exceptional holidays for our customers and can take bookings throughout the year. We have spent many years building great relationships with the best of what Montgenevre has to offer. Go Montgenevre offers a local flavour.
Tailor-made Holidays
We are here to take the stress out of booking and organising your holiday. We offer fully hosted and catered chalets, hotels and self catering chalets and apartments throughout Montgenevre and the surrounding area.
Family Run, Client Focused
We are not a big faceless company. We are a family run business founded in 2006. Our UK office is also staffed by family members. We love mountains, we love sunshine and we love snow; it's why we fell in love with Montgenevre.
"Although brief, the vacation was very pleasant. The house is very nice, spacious and equipped with everything you need, as well as very clean and well-kept. I highly recommend it."


"Beautiful apparent with great views over Montgenevre. The apparent is spacious and well equipped and is located above the town, about 300m from the centre. Go-Montgenevre were great hosts, very communicative and friendly on our arrival. The apartment was very clean with fresh towels and bed clothes. Overall great experience and highly recommended."

"Please pass on our thanks to the resort team for looking after us this week.
We had a great time, lovely apartment, good equipment and ski school"


"We've had the most amazing time thanks. Thanks so much for all your help with everything. We can't wait til the next time!!"


"Thank you so much for being the icing on the cake of our recent stay in Montgenevre! - your service was impeccable; so friendly, helpful and efficient. Please pass on our gratitude to all your staff who made our holiday so enjoyable. We will definitely be return customers!"


"We had a great time, and will definitely be back. The skiing was superb, the chalet was excellent and we really like the town. See you next year!"


"Just heading down the mountain to Turin and wanted to thank Go-Montgenevre for a superbly organised week. I know it's been the 2 busiest weekends of the year when I arrived and left and your customer service by email and in person was second to none.Thank you so much and best of luck for the rest of the season"


"We all absolutely loved the resort, the apartment was perfect for our needs, the two older boys took to skiing like ducks to water and I met some great people in my lessons. None of us wanted to come home and we're all suffering from skiing withdrawal. Roll on next year!"


"Thank you for the chalet, great fun. Thank you to James for meeting us at the beginning. Also never seen so much snow. Thanks again."

"We had a wonderful holiday and the Go Montgenevre team were great and made it all so easy for us. We will certainly be back!"

"On behalf of the family I should like to thank you for organising another great skiing holiday. James made a good call with the coach on the return transfer, it was slow but we got to Turin without drama despite the snow problems. Thanks to all the team, we hope to return next year"


"What stands out to me each time we book a holiday with you is the feeling that we are getting a truly personal service at an affordable price. All along, from our initial enquiry right to the sad moment we arrive back at the airport at the end of our week we know we have been in good hands, your friendly efficient service takes all the stress out of the holiday, meaning we can just enjoy ourselves."

"I would just like to say how smooth everything went today. We arrived as planned and even had time to get a bit of skiing in before the snow started. There is so much here already!
Please could you pass on my thanks to the whole team who did a great job"


"We have had a lovely time (been very lucky with the snow & sun!) As "newbies" to Montgenevre we are very taken by the resort and ski area."


"We had another amazing enjoyable holiday thanks to you guys in Monty. We will be back next year!"


"Dear James, Julie, Ben and Go Montgenevre staff, We had unbelievable week here in Montgenevre. We're very grateful for such opportunity to stay and ski in such beautiful place. Thank you See you again!"


"Thank you so much for organising our skiing holiday in Montgenevre. Everything went like clockwork. We all had the most wonderful time, in fact the best skiing holiday ever. All the staff of Go-Montgenevre that we came across were so kind, helpful and friendly. The apartment was perfect, home from home. Such an excellent week."

"Thank you for organising a memorable holiday for us, we all had a great time. Everyone was so helpful and made everything very easy for us. The skidoo trip to the restaurant was a definite high point - the kids were in their element. You and your team do a great job and we hope to return again"


"Just to say thank you so much for a wonderful week in Montgenevre. The service you gave us was so personal and the great ski conditions was a bonus, looking to book flights for next year, how soon can we make a reservation with you?"


"Just to say "thanks" to one and all for another enjoyable holiday in Montgenevre and to let you know that we had a great stay in Paris....weather was good too! Home safe and sound and will start thinking about next year soon"


"We are now back in Melbourne and I want to say a huge thanks for all the help you gave us in organising our week in Montgenevre. We loved it and will always remember the week as something quite special."


Dave, Yvette, Zoe & Louis
"Amazing, thanks for a first class service, so impressed"


"Incredible experience. Fantastic staff. Phenomenal price"


"INCREDIBLE if I had to put into 1 word. You can learn how to ski or snowboard and if you already know how to there are a variety of slopes and courses and is definitely something everyone needs to try."


1
Contact the reservations team
Start by speaking to our friendly reservations team, based in both the UK and in France (in either English or French) telling us what you are looking for.
2
We turn your wishes into a tailor-made holiday
Our experienced team will suggest the best options for your group and preferred dates, using our exclusive list of accommodation, our local representatives, private instructors, suppliers and fleet of private vehicles.
3
Confirm and start getting excited!
Secure the reservation with a 50% deposit, the balance is due 6 weeks prior to arrival and there is a 1.5% booking fee. Full terms and conditions here.