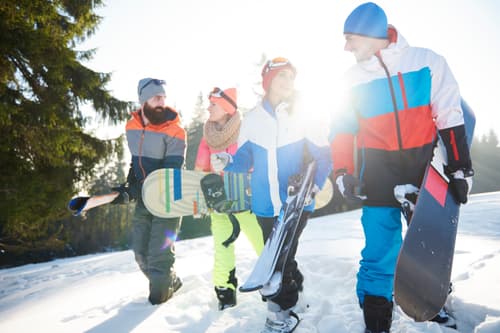 Summer Activities
Montgenèvre is not only about skiing, there are a lot of other activities are available to you. We have selected the must-see places in the area to make your holiday unforgettable. Most of our activities are suitable for guests of any level.
Monty Express Luge
Unique in France, this toboggan run was installed in 2010. Attached to a monorail, you descend 1400 metres (the longest run in France) at a speed you can control. It offers spectacular views as you turn through the trees and is a real must for any thrill-seeker. With speeds of up to 60km/h, the youngest children must be accompanied by an adult.
Opening times :
Open on the weekends of 23 and 24 June, 30 June and 1 July, 8 and 9 September.
Open continuously, 7 days a week from 7 July to 2 September.
Prices :
Free for children under 6 years old and over 75 years old.
Junior (6 - 14 years old): 8€60
Adult (15 - 74 years old): 10€60
Family pass (2 adults + 2 children): €36.40
Rates for several descents are available, please ask.
Fishing
Why not take advantage of a fishing spot, enjoying the 2 lakes of Montgenèvre, surrounded by the beauty of the Alps? There is lake and river fishing. Permits are available for the morning until the full season so you can fish for as long as you like. Open from early May to mid-November depending on weather conditions.
Montgenèvre Golf Club
The highest golf course in the region, one part in Italy and a second part in France for a total of 18 holes for the big course, in a unique mountain setting, many obstacles such as lakes offer an unusual experience. Competitions take place every Sunday!
For bookings and further information: http://www.golf.montgenevre.co...
Horse riding
Whether in the Vallée de la Clarée or in the mountains, 2 local rides offer excursions and coaching through tracks and forests. They offer courses from beginners to experienced riders from one hour to a full day. Families are welcome, with children from 3 years old.
A different way to travel in the mountains
By mountainboard or all-terrain scooter, you can explore the mountains and hurtle down the slopes of Montgenèvre, with or without a guide.
Durancia
The Durancia is the latest of Montgenèvre's leisure complexes, offering great swimming opportunities with spa and an outdoor pool. Prices start from just 9€ per adult for one hour and 4€ per child for one hour. Free for children under 3 years old.
Cinema
Montgenèvre has its own cinema, located in the Maison du Village. Open most of the time in the evenings, we advise you to check what's on at the time of your visit. Prices are 8€ per adult and 6€ for concessions.
Rafting / Kayaking in white water
The local rivers, as well as the Montgenèvre lakes filled with mountain water, are an excellent place for this activity. There is a choice of places and experienced local guides to take you. Local clubs provide all the necessary equipment if you don't have your own!
Grimp'in Forest - Tree climbing
Open during the months of July and August from 10am to 6pm, Grimp'in Forest in Briançon offers adults and children hours of fun on its accrobranche course.
If you have a car, you may want to explore other areas in the surrounding area which offer other activities such as go-karting, quad biking, historical sites, flower gardens, shopping and more.
Montgenèvre Pass
Registered and attached to its owner's wrist, it is valid 7 days from Saturday to Friday. The cost is 60€ for children under 14 and 80€ for adults. The Pass allows unlimited but regulated access to the following activities:
- Golf practice: open from 11am to 2pm.
- The summer toboggan (1 free entry every day during opening hours)
- Télémix Chalmettes, Gondrans chairlift and Chalvet gondola lift in free and unrestricted access
- Multi-leisure park: paddle, kayak and pedal boat every day
- Cinema: free access to the 6pm screening
- Climbin' forest. Valid every day, three daily departures: 13:00 / 13:30 / 14:00, within the limit of available harnesses.
Offer +: present your Pass, receive many offers in the different shops in Montgenèvre.
1
Contact the reservations team
Start by speaking to our friendly reservations team, based in both the UK and in France (in either English or French) telling us what you are looking for.
2
We turn your wishes into a tailor-made holiday
Our experienced team will suggest the best options for your group and preferred dates, using our exclusive list of accommodation, our local representatives, private instructors, suppliers and fleet of private vehicles.
3
Confirm and start getting excited!
Secure the reservation with a 50% deposit, the balance is due 8 weeks prior to arrival and there is a 1.5% booking fee. Full terms and conditions here.
Searching Availability...