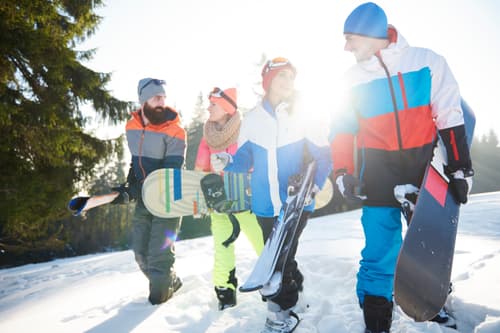 Summer
Summer Packages to suit you and your whole family

Come and explore what Montgenevre has to offer you this Summer! With apartments to suit 4 - 8 and chalets from 8 - 14 people and prices starting from less than £100pp for a 7 night stay in peak season, they're a wonderfully affordable way to enjoy the amazing scenery the Alps has to offer - without burning a hole in your pocket!
With temperatures averaging between 25 - 30 degrees C and 300+ days of sunshine a year, Montgenevre is the perfect place to wind down and enjoy the very special climate of the Alps during summer. There's plenty to see and do for guests of all ages. Check out our Summer page below for more details. Contact the team now to enquire or book.
Summer activities - what a way to spend a day!

There are a whole variety of summer activities in and around Montgenevre - from adrenaline junkie activity and extreme pursuits to more genteel and family-focused activities, all set against the backdrop of breathtaking Alpine scenery. Alongside some great self-catered holiday rentals with easy access to the main village, a large number of bars and restaurants remain open too for a truly memorable holiday (and to save on the washing up!)
Bike Park:
Montgenevre has a growing reputation as one of the best downhill bike resorts in the area. With tracks to suit all abilities and lifts to take you and your bike to the mountaintop, there is fun for the whole family as well as extreme riders. The local pass ticket also gives you access to other bike parks in the area. A full weeks pass is around £75.00 or else single day tickets can be purchased for a minimal fee.
Walking/Bike touring:
There are literally hundreds of miles of stunning, well-marked walks and bike tracks both for the beginner and experienced hiker. Magnificent scenery and the many mountainside forts make the climb well worthwhile. Route maps and guides are available and in high season, lifts are available to give you and your bike a leg up to the first stage of the mountains.
Golf:
Tee off in France and putt in Italy on Montgenevre's border-crossing 18-hole golf course. Competitions held every Sunday for the committed! Driving range and pitch and putt course available for practice. But be aware, the rolling mountains make it not for the faint-hearted!
Luge - Monty Express!
Unique in France, this toboggan run was installed in 2010. Descend 1,400 metres downhill attached to a monorial at a speed that you can control. The luge boasts spectacular views as it twists and turns through the mountain trees and passes; a must for any thrill seeker! Fun for the whole family - the ride is suitable for all ages, although under 7's must be accompanied by an adult. Prices start from €9 per adult and €7 per child with family tickets available.
Horse riding:
Trek the Vallée de la Clarée or head up into the mountains, 2 local riding stables offer excursions and supervision/training along tracks and through mountain forests. Tuition from beginners to competent level, from an hour to a full day. Families are welcome, with children as young as 3 able to participate. Horse riding here makes for a great way to explore the local areas.
Fishing:
Silence is golden. Enjoy a spot of fishing in style and cast from the banks of the 2 lakes Montgenèvre offers. Licences are available from a morning to a season so you can fish for however long you want. Open from early May to mid-November depending on weather conditions.
Durancia:
Balneo's Durancia is Montgenevre's latest leisure complex, offering beautiful heated pool and spa facilities with outside waterfall and recently added gym. Wind down in their wellness suite and treat yourself to a pamper sesh or simply enjoy a splash about in the cool summer breeze. Open to the whole family , summer prices start from just €9 per adult, per hour and €4 per child, per hour with under 3's free. Family tickets are available too.
Cinema:
Montgenevre even has its very own cinema, located centrally in the Maison du Village. Open mostly in the evenings, we recommend you check out what's on and when at the time of your visit. Prices are €8 per adult and €6 for concessions.
White water rafting/ Kayaking:
Local rivers provide excellent waters to drift on. Lots of locations and experienced local guides to take you down. Local clubs provide all the necessary equipment.
Grimp'in Forest - High Ropes:
Test your strength and determination by experiencing the thrill of the high ropes!

Open throughout July and August from 10am - 6pm, Grimp'in Forest offers adults and children hours of high rope fun!
If you have a car you may wish to explore other local areas offering activities including; go-karting, quad biking, historical sites, floral gardens, shopping and more.
Pass Montgenevre
Registered and attached to the wrist of its owner, the Pass Montgenevre is valid for 7 days from Saturday to Friday. The cost is €60 for children under 14 years and €80 for adults. The Pass allows unlimited but regulated access to the following activities:
• Golf: Open from 11am - 2pm
• The summer toboggan (1 free admission every day during opening hours)
• The Télémix Chalmettes, Gondrans chairlift and Chalvet gondola: Free access without restriction
• Park Multiloisirs: Paddle, kayak, pedalo, daily
• Cinema: Free access to the 6 p.m. session
• High ropes Grimp'in Forest : Adult: Access to the ropes course, child -12 years: [PA1] All valid every day, three daily departures: 1pm/1:30 pm / 2pm, within the limits of available harness
Offer +: present your pass and get lots of offers in various Montgenevre shops!
Sensations Montagne

Full Day - Excluding electric mountain bike: €300pp 1-8 people
1/2 Day - Excluding electric mountain bike: €200 1 to 8 people

BIKING PACKAGES
Downhill Mountain Biking & VTT
Montgenèvre boasts its very own bike park covering an area from a height of 2,760m high down to 1,860m; an amazing free ride of 1,000m through some of the most extreme runs in Europe. The area includes 8 permanent downhill trails, 3 fun areas and 2 free ride areas.
For those who don't want to make the climb, the permanent downhill slopes are reachable via gondola and chairlift.
Permanent Trails: From the top of the Chalmettes (at 2,200 m) 7 trails are available of different difficulties; from beginner to hardcore.
3 fun areas: The "Southshore Prarial" aimed at experts and confident riders while the "Southshore Sestrière" for beginners. These fun areas include obstacles and roller coasters, bridges, step-up, road-gaps and much more!
L'année 2007 a vu l'extension du Bike Park à l'Observatoire, côté Gondrans et la création d'une 8ème piste verte. Ce nouveau parcours comprend un pont d'initiation ainsi qu'une zone free ride facilement accessible depuis le sommet du télésiège de l'Observatoire, à 2450m.
Le prolongement du Bike Park vers la partie italienne et le télésiège du Rocher de l'Aigle à 2760m sont ouverts aux randonneurs et aux vététistes. Ils mènent au versant italien, les Monts de la Lune, par le Colletto Verde, avant de redescendre vers Clavière (Italie). Côté français, pour redescendre vers Montgenèvre, une piste noire a été créée dans l'étroite vallée du Souréou, offrant un espace free-ride avec un dénivelé de près de 1000m (2760-1860m).
Chaque année, Montgenèvre accueille la DH.
Quel que soit votre niveau de compétence, vous allez passer des vacances des plus agréables avec Go-Montgenèvre.
Summer prices & accommodation
SUMMER MOUNTAIN SENSATIONS - DISCOVER ONE OF EUROPE'S MOST BEAUTIFUL DESTINATIONS AT A GREAT PRICE.
ALPINE CHALETS AVAILABLE IN PEAK SEASON FOR AS LITTLE AS £695 per WEEK. APARTMENTS FROM JUST £395*.
*Accommodation Sat - Sat online only. For alternative, tailored dates, please contact the team.
Many chalets come with its own grounds for BBQ, outdoor activities and sunbathing, some have Mother Nature on their doorstep! Either way, there is much to do. The resort has it's own bike park, descent trails, swimming pool, tennis courts, golf course, volley ball court, boating, bike parks, tree adventure trails, fishing all within a few minutes and a whole world to explore by car. Please note - in order to keep our accommodation prices down, our Summer prices do not include bedding and towels (duvets and pillows provided). If you would like us to provide these - please ask staff for details ahead of your stay.
1
Contact the reservations team
Start by speaking to our friendly reservations team, based in both the UK and in France (in either English or French) telling us what you are looking for.
2
We turn your wishes into a tailor-made holiday
Our experienced team will suggest the best options for your group and preferred dates, using our exclusive list of accommodation, our local representatives, private instructors, suppliers and fleet of private vehicles.
3
Confirm and start getting excited!
Secure the reservation with a 50% deposit, the balance is due 8 weeks prior to arrival and there is a 1.5% booking fee. Full terms and conditions here.
Searching Availability...