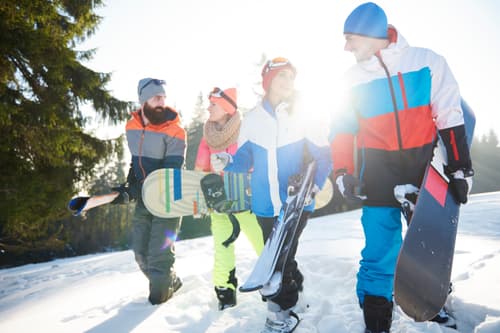 Ski Away Days
Ski away days

Thanks to Montgenevre's unique location, everyone who purchases a lift pass of 6 days or more is entitled to a free day skiing in a host of resorts in the surrounding area - and with a mini-bus available to get you there, they are closer than ever. What's more, you're not limited to just one; if you want to go to a different resort each day, you can do! Read on for our summary of where to go and why.

Sestriere is a high up ski resort that holds its snow towards the later season. It can be quite cold and windy early season though, so wrap up warm! Take in the striking architecture of the 2006 Olympic Village while challenging yourself on the steep blacks and fast reds or trying your luck in the large snowpark.
Approx. 30 mins from Montgenèvre. Single person prices need minimum of 4 people.
€163 for bus return* (up to 8 passengers)
Sauze D'Oulx is famous for its abundance of rolling, tree lined red runs, buzzing mountain restaurants and lively après scene. Hidden from the wind but facing the sun, this Italian resort has a chilled out atmosphere in the day and is a great place to go to work on a goggle tan!
Approx. 30 mins from Montgenèvre.
€165 for bus return* (up to 8 passengers)
Bardonecchia has been long overlooked but is a real family-friendly gem of a ski resort. 'Bardy' offers a fantastic selection of forgiving tree-lined reds and blues, and many mountain restaurants handy for a quick pit-stop or a real Italian feast! Well worth a visit.
Approx 40 mins from Montgenèvre.
€224 for bus return* (up to 8 passengers)
Serre Chevalier refers to the extensive linear ski area links the mountain area above Briançon, Chantemerle, Villeneuve and Le Monêtier-les-Bains. With lots of recent investment 'Serre Che' has a young feel to it with a range of parks, tree lined runs, mogul fields and high up skiing. It's a big day out. As such there are multiple drop-off and pick up options. And why not combine a day's skiing with relaxation at the stunning thermal baths of Monêtier-les-Bains? Yes please!
Approx 25-35 mins from Montgenèvre
(depending on drop-off location). Single person prices need minimum of 4 people.
Only €143 for bus return* (up to 8 passengers)
La Grave – Don't be put off by the name! This famous (and infamous…) 'off-piste' resort is strictly for the serious skier wanting a unique off-piste experience skiing down a glacier. Carrying a transceiver, shovel and probe are compulsory, as is an understanding of how to use them. Local guides can be arranged to ensure your safety and show you the best spots so you get the most out of the day. This is also one of the best places in Europe for ine climbing if you fancy a real challenge! Approx. 1hr drive from Montgenèvre. NOTE: Additional lift pass purchase required to ski here.
Approx. 1 hr from Montgenevre
€308 for bus return* (up to 8 passengers)
Les Deux Alpes is a glacier resort where theyear-round skiing on the glacier is regarded as much gentler than the steep runs back to the resort level, earning this resort a reputation for being 'upside-down'. It's also famed for having one of the most extensive and acclaimed snowparks in Europe, with a huge 'super-pipe', multiple kickers, boardercross courses and grinding rails, making this 'park rat' heaven. It is, however, prone to queues of an hour during school holidays so best visited in the quiet weeks to get the most out of the day.
Approx. 1 hr 40 drive from Montgenèvre.
€440 for bus return* (up to 8 passengers)
Alpe D'Huez sits in an elevated south facing position with many easily accessible beginner slopes leading down to the restaurants and bars where the quirky 'yogurt pots' lifts transport people overhead. Further up, the extensive lift system serves more complex terrain including the world's longest black run (10m/16km). There are alsoenviable freeride opportunities for the skilled and equipped skier or rider. Despite extensive snowmaking facilities, it suffers badly because of the sun later in the season, so keep checking the webcams and reports.Approx. 2 hrs from Montgenèvre.
€517 for bus return* (up to 8 passengers)
1
Contact the reservations team
Start by speaking to our friendly reservations team, based in both the UK and in France (in either English or French) telling us what you are looking for.
2
We turn your wishes into a tailor-made holiday
Our experienced team will suggest the best options for your group and preferred dates, using our exclusive list of accommodation, our local representatives, private instructors, suppliers and fleet of private vehicles.
3
Confirm and start getting excited!
Secure the reservation with a 50% deposit, the balance is due 8 weeks prior to arrival and there is a 1.5% booking fee. Full terms and conditions here.