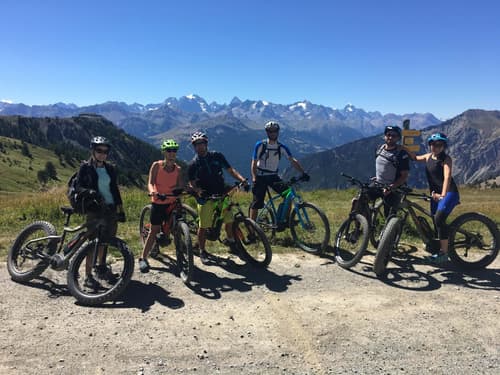 Catering
Get the true Alpine food experience from Go Montgenevre.
Food makes the difference between a good holiday and a great one.
Meal times in Montgenevre are a great way to relax, reconnect with loved ones and share new experiences.
Our options are designed to offer you the maximum choice in enhancing your stay. These are all booked through our local partner company.
Go Monty breakfast deliveries
We supply an initial package of teas/coffee, juice, milk, jams and a selection of cereals at the start of your holiday. Daily morning deliveries fresh French bread and croissants/pain au chocolate/pain au raisin directly from the best local bakery are included. Eggs, ham, and cheese are available on request for a small additional fee.
Breakfast items are delivered between 7:30-8:30am, as this is when the bakery opens. Delicious daily breakfast deliveries must be booked before you arrive.
£5.50 per adult per day
£4 per child per day


Meal on the Mountain

Bored of the usual evenings out? Want a tantalising taste of a night up the mountain?
Then why not give our Meal on the Mountain a go with a skidoo ride to your restaurant!
We'll collect you from your chalet or apartment, drive you down to Clavière where you'll be met by a skidoo and transported up to a local mountain restaurant. Feast on a 5-course meal including apéritifs, anti-pasti, charcuterie, various pasta dishes and Italian dolce (desserts) followed by coffee and a cheeky digestif.
Dietary requirements including gluten-free? No problemo! Just ensure you notify us at the point of booking. We prioritise earlier sittings for families with younger children. Price includes your food, wine and transport.
Only £52 per adult
Only £30 per child (12 and under)

Limited places available, so book early to avoid disappointment!
Chalet-chef evening meals
For those looking to enjoy some time off from the kitchen this holiday, look no further! Our evening package is brought to you by a professional, local chef and can be booked up to 6 evenings* (minimum 3 nights). Not only do they offer full 2 and 3 course meals to include a delicious entrée, main and dessert, full waiter service is included too - with set-up and clean up after to make life simpler for you!
Our menus include traditional French cuisine plus a number of favourites from other regions of the world. With alternative options available for those with special dietary requirements upon request.
The children's meals include simplified lasagnes, chicken goujons, and home-made burgers. Always fresh and very tasty! Children's dinners include a main course and dessert and are served before the adults. (Please note - the ages below are merely a guideline based on portion sizes. So if you have children with slightly larger appetites, you may want to consider an upgrade on their meal to avoid rumbly tummies!)


Chalet Chef evening meals (entrée, main course & dessert - wine not included)
Only £55 per adult per evening (3 courses)
Only £25 per older child per evening (2 courses, 9-14yrs)
Only £18per small child per evening (2 courses, 4-8yrs)
Only £7.50 per infant per evening (2 courses, 1-3yrs)
*Based on availability - please check with the team for details.
**Minimum booking 8 people
Our chalet evening meals are a tailored, bespoke service. On the 7th night, you have the option to eat out or do your own thing. There are many great restaurants close-by, so we are more than happy to advise you on this and book a table accordingly. Or why not give our Meal on the Mountain a go for a really special night out!*


1
Contact the reservations team
Start by speaking to our friendly reservations team, based in both the UK and in France (in either English or French) telling us what you are looking for.
2
We turn your wishes into a tailor-made holiday
Our experienced team will suggest the best options for your group and preferred dates, using our exclusive list of accommodation, our local representatives, private instructors, suppliers and fleet of private vehicles.
3
Confirm and start getting excited!
Secure the reservation with a 50% deposit, the balance is due 6 weeks prior to arrival and there is a 1.5% booking fee. Full terms and conditions here.