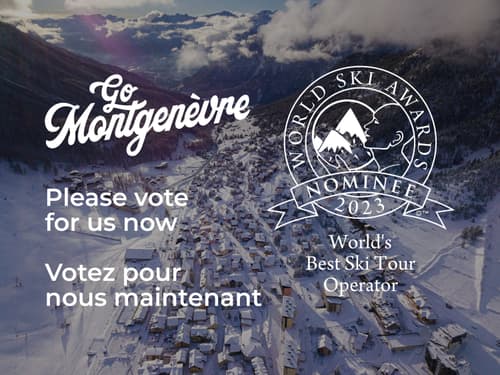 Adventures
ADVENTURE ONE STEP FURTHER...
Our local man of the mountains Jean-Paul Carlhian provides guided adventure for those who want to go that little bit further.
What our Adventure Co-ordinator Florian Schwey says:
"You have chosen Go Montgenevre for your holiday this winter and you've made a good choice with the professionalism, the enthusiasm and care of Ben and their team.
Would you like to make your Montgenevre holiday more adventurous, even more special? Discover the world of skiing beyond the normal runs! I offer special lessons, half days, full days of different sorts; off-piste, cross country, and snow treks. We stay in Montgenevre or venture to the neighbouring resorts; the Milky Way, Serre Chevalier, Les Deux Alpes, Puy St Vincent. And for those brave few - why not try some heli-skiing?
With over decades of experience in the region and with a thorough knowledge of the local terrain, I will take you where you want to go and where you've never been before. Maybe you're a beginner looking to find some peaks beyond the pistes or you could be a more experienced and finding the normal slopes a little limiting for your level. I offer you a thrilling taste of adventure that is always safe and applicable to your skill level.
Don't speak French? No worries, my wife is English so languages are not a problem!"
Florian Schwey
Technical Director and Senior Instructor Montgenèvre
Heliskiing. Based in the neighbouring resort of Sauze D'Oulx, we can organise a helicopter ride that will take you and an instructor to the top of a local mountain. You will then enjoy your time go off-piste before either being picked up by helicopter and taken back to resort or onto another mountain for a second run. Prices begin from only £210 per person for a drop (based on 4 people sharing).
Ski Away Days: Why not try another resort for a day? Trips can be arranged to Serre Chevalier and, if requested, one of our team can be there to show you around. See our 'Ski Away Days' page.
For those who don't fancy skiing all the way around the Milky Way, why not be driven half way and ski back to Montgenèvre? Our trip takes you to Sauze D'Oulx and you will accompanied back to Montgenevre. Full day trips to Sauze D'Oulx can also be organised.
Off-Piste Adventures: Discover unspoiled fresh powder pistes together with an experienced local guide. From as little as 1.5 hours to a full day.. From as little as £44 per person.
Skidoo Riding: Something to get your adrenaline pumping! Drive around for an hour on your very own skidoo. Follow an instructor around a mountain course in Montgenevre. With a mixture of inclines and declines, steady and fast paces, skidoo riding is really worth a go. The pistes will be silent and you can often catch the sun-setting. Prices are: 70 euros for the driver and a further 10 euros for a passenger (you can swap drivers halfway through).
Snow Shoe treks: After a day's skiing, why not enjoy a more leisurely snow shoe walk up the mountain and through the forests to secret teepees and Mongolain Yurts!You will be treated to local delicacies and some delicious, warming drinks. Prices from as little as £33 per person.
If you have any other ideas or things you'd like to do let us know and we'll try to organise it for you.
Superb boardercross tracks
1
Contact the reservations team
Start by speaking to our friendly reservations team, based in both the UK and in France (in either English or French) telling us what you are looking for.
2
We turn your wishes into a tailor-made holiday
Our experienced team will suggest the best options for your group and preferred dates, using our exclusive list of accommodation, our local representatives, private instructors, suppliers and fleet of private vehicles.
3
Confirm and start getting excited!
Secure the reservation with a 50% deposit, the balance is due 6 weeks prior to arrival and there is a 1.5% booking fee. Full terms and conditions here.