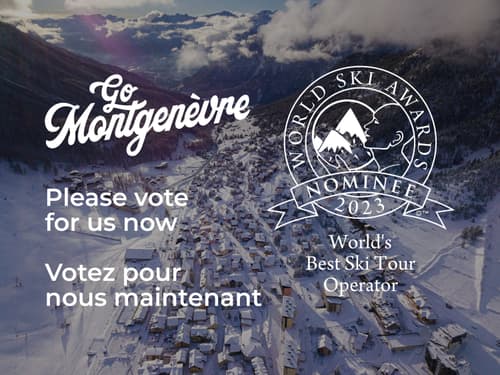 Mountain Bike Package Holidays
Experience Thrilling Bike Adventures in the Majestic Hautes Alpes
Welcome to the Hautes Alpes, the ultimate destination for your dream mountain bike holiday. Whether you're an avid mountain biker or a passionate road cyclist, our picturesque alpine village offers the perfect blend of natural beauty, adrenaline-pumping trails, and exceptional hospitality. At Go Montgenèvre, we specialise in creating unforgettable bike experiences that include everything you need for a seamless and exhilarating adventure. From convenient transfers and sumptuous meals to top-of-the-line bike rentals and daily guidance from expert bike guides, we have you covered every step of the way.

Mountain Bike Holidays
Included:
Luxury Accommodation
Guided riding throughout the trip (5 full days + extra short days if required)
Use of sauna/jacuzzi
Chef cooked 3-course diner
Chef cooked breakfast
Afternoon cake/goûter
Support vehicle and collections/drop-offs
£1000 per person (7 Days Sat-Sat)
Spring, Summer and Autumn Packages
Guaranteed departure from 4 people
Not included:
Equipment rental, picnic/restaurants (only if required), Lift Passes (only required on certain routes and if wanted), Airport or Train Station Transfers (If required)
Unleash Your Cycling Potential
Unleash Your Cycling Potential with Our Expert Guides
At Go Montgenèvre, we believe that every cyclist has untapped potential waiting to be unleashed. That's why we provide you with Florian and his team of seasoned bike guides (for larger groups) who are passionate about helping you reach new heights on your bike. Whether you're a beginner looking to gain confidence on the trails or an experienced rider seeking thrilling challenges, Florian will tailor each day's route to match your skill level and goals. With his extensive local knowledge and expertise, you'll discover hidden gems, conquer legendary mountain passes, and experience the exhilaration of the Haute Alps like never before.

All-Inclusive Bike Holidays
All-Inclusive Bike Holidays Designed for Your Comfort
At Go Montgenevre, we understand that a truly remarkable bike holiday is more than just pedalling through stunning landscapes. It's about relaxation, indulgence, and the peace of mind that comes with knowing everything is taken care of. That's why our all-inclusive packages encompass every aspect of your trip. From the moment you arrive, our hassle-free transfers will whisk you away to our charming accommodations, where you'll be treated to comfortable rooms and amenities that cater specifically to cyclists. Our renowned chefs will tantalise your taste buds with delicious meals crafted from locally sourced ingredients, providing the fuel you need for your daily adventures.

Top-of-the-Line Equipment
Top-of-the-Line Equipment to Elevate Your Ride

We believe that every cyclist deserves the best equipment to elevate their riding experience. You may have your own kit and just want to upgrade to an e-bike for a day or maybe you don't want to bring your kit across Europe. That's why, at Go Montgenèvre, we provide premium bike rentals to ensure you have access to top-of-the-line gear. Whether you prefer mountain biking or road cycling, our fleet of meticulously maintained bikes is designed to enhance your performance and comfort. Our experienced staff will help you select the perfect bike tailored to your preferences and skill level, ensuring that you can focus on the joy of riding while we take care of the logistics.

Discover the Haute Alps

Enjoy all that Les Alberts, Serre Chevalier, Nevache, Sestriere and Montgenèvre has to offer


Our main luxury accommodation is in Les Alberts, Montgenèvre 1400, a destination that encapsulates the essence of alpine beauty. Nestled in the heart of the French Alps, our charming village is surrounded by majestic mountains, pristine forests, and awe-inspiring vistas. It is also a gateway to some of the best bike routes and trails in Europe. In addition to thrilling bike trails, you'll have the opportunity to explore our vibrant local culture, indulge in regional delicacies, and unwind in our wellness facilities. With a range of other activities available, including hiking, paragliding, and more, there's something for everyone in the haute alps.

"Very much enjoyed this well located and very well equipped accommodation for our needs (stage of the Tour de France). We had feedback to the questions asked and the managers facilitated our arrival and departure. I recommend the site (first time user) and this rental."

"Perfect. Very practical and pleasant location in a beautiful environment"

"Spacious and very well equipped house. The only thing left to do is to equip the garden to have a pleasant outdoor space. We had an excellent stay and will be back with great pleasure. Thank you very much!"

"Excellent flat in this luxury chalet, quiet, peaceful and very well equipped! Great view on the mountain where you will see some marmots at the end of the day. I absolutely recommend it."


"Great family skiing trip, with transfers, accommodation, ski hire and lift passes all organised through Go Montgenevre. Highly recommended."

"Great service from Go Montgenevre, everything was quick and easy to book, a hassle free experience and I will definitely use them again in the future."

Embark on Your Dream Bike Holiday Today!
Book your bike holiday now and discover the unparalleled beauty and adventure that await you in the Haute Alps.
Searching Availability...
The Haute Alps in the summer
With temperatures averaging between 25 - 30 degrees C and 300+ days of sunshine a year, Montgenevre is the perfect place to wind down and enjoy the very special climate of the Alps during summer. There's plenty to see and do for guests of all ages.
EXAMPLE PROGRAMME OF THE ELECTRICALLY ASSISTED MOUNTAIN BIKE WEEK


Monday Morning → Discovery of Montgenèvre
1h30 around the village, Registration at the Tourist Office
Monday afternoon → Tour du Chenaillet
25 km, 700 m ascent, duration 3h.
Between France and Italy by single trail


Tuesday morning → Alpage des Gondrans
10 to 15 km, up to 500 m difference in altitude, duration 2h30
Outing in the mountain pastures, at the source of the Durance
Tuesday afternoon → Cesana
20 km, 300 m ascent and 650 m ascent to reach the Italian village of Cesana. Franco-Italian outing


Wednesday morning → Lago Nero

Approx. 25 km, up to 500 m ascent, duration 3h

Between France and Italy in the forest, then on the mountain pasture with the cows to the farm above the lake.

Wednesday afternoon → Basse Vallée de la Clarée

Approx. 20 km, 150 m ascent, duration 3h.

Around the villages of this lower valley, the route follows the Clarée.


Thursday morning → Tour de l'Infernet

30 km, 900 m ascent, duration 3h30

Discover the fortifications of the Briançonnais.

Thursday afternoon → Fort Janus

15 km, 700 m ascent, duration 3h30

Emblematic summit of Montgenèvre with a visit to Fort Maginot.


Friday → Lago Nero

Approx. 25 km, up to 500 m ascent, duration 3 hrs.

Between France and Italy in the forest, then on the mountain pasture with the cows to the farm above the lake.
Saturday

18h00
Welcome participants, briefing on the week's programme. Equipment check

Day 1

Col du Granon
Departure 9am from the hotel by mountain bike
picnic

Day 2

The Montgenèvre lakes, between France and Italy
9am by bus
Option to eat at the Mautino refuge

Day 3

Melezin and Lac de la Cerverette
9am from the hotel by mountain bike, picnic
Return by bus

Day 4

Scarfiotti Refuge/ Bardonecchia
Departure 9am by bus
From Bardonecchia, climb to the Scarfiotti refuge, lunch at the refuge or picnic.
Loop route.

Day 5

Fort de l'Infernet
Departure 9am from the hotel by mountain bike, picnic.

Please note: itineraries may change depending on the level of participants and the weather at the time. All outings are flexible. Only the guide/instructor decides on the itinerary.