Exhilarating Heli-skiing Adventures: Acros he Border From Montgenèvre!
Your ski stay in the French Alps should absolutely include some HELI-SKIING action, if you are a confident off-piste skier with proficient skiing ability and the desire to experience a high Alpine, thrilling ride!
You are in for an amazing winter adventure…
Lifted to dizzy mountain top heights, to disembark onto pristine snow…
Whatever you do, don't forget your GoPro!
As your ski holiday agents: Go Montgenèvre will book this experience for you - along with any other trip or activity you wish to pursue on your ski holiday. We will ensure Snow Cab, our transfer partners, collect you from your chalet and take you to the helipad base in Sestriere, Italy - a mere 30-40 minutes' drive from Montgenèvre.
What to expect
Although we cannot put into words how you will feel after experiencing such a rush, we can give you a few pointers as to what awaits you.
First of all, you need to know that it is not quite James Bond-esque, where you jump out of the helicopter! The helicopter lands safely at the drop-off point and you dismount with a specialised instructor in tow. But no less, with a mapped-out area, especially for heli-skiing, featuring 80 slopes and trails in the Susa Valley, you are in for a 'high'!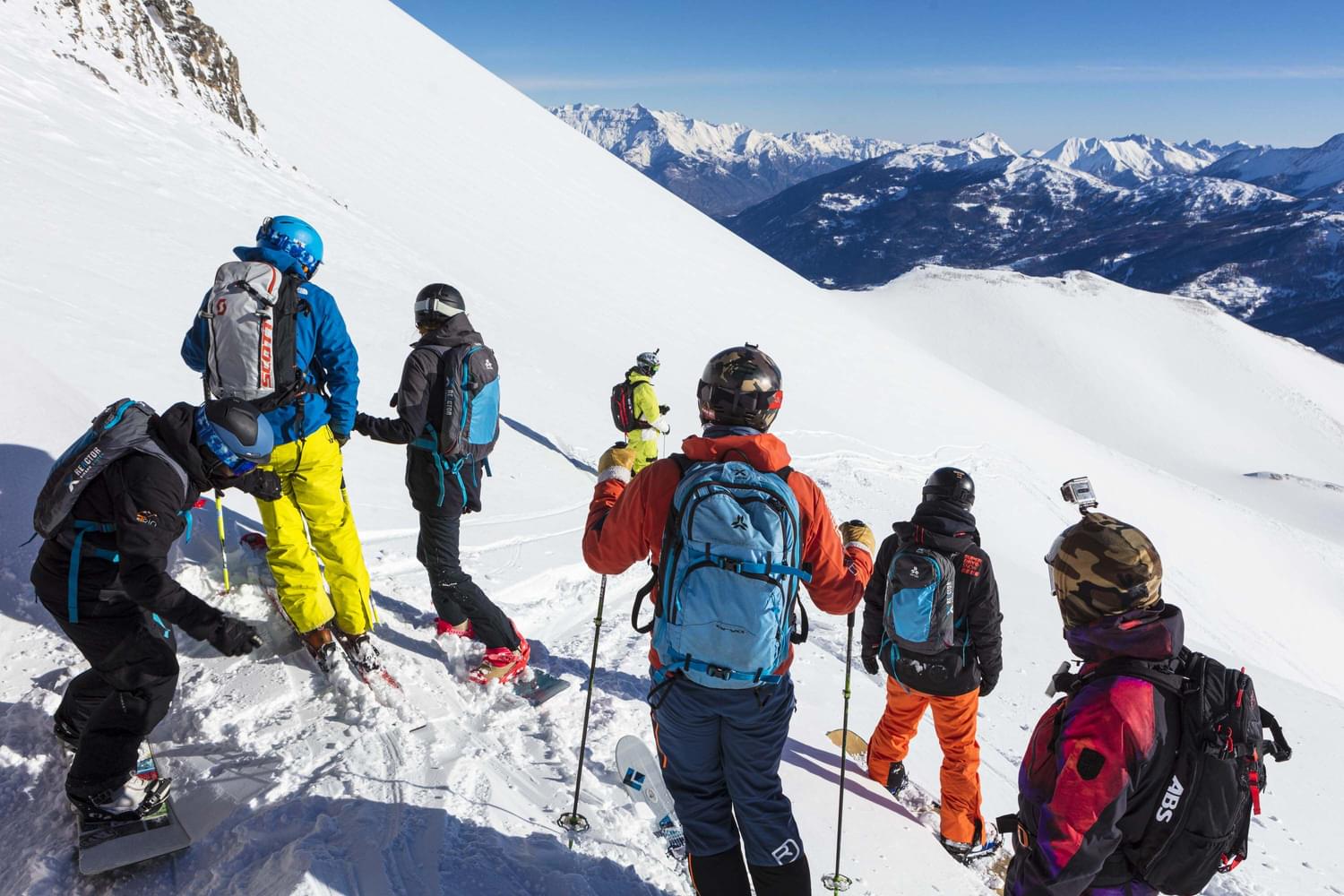 The elevation of your starting point will depend on your skiing level and ability, ranging within a descent of 1,600 – 800m, with an average of 5,000 vertical meters possible, depending on your package and your desired number of runs. The runs for the day are also carefully selected in relation to the current weather snow conditions and forecast.
Your package will also include a safety and emergency briefing, your alpine guide/specialised instructor and emergency equipment in a backpack, including a shovel, probe and a rescue transceiver.
Good to know
Without a doubt, your safety is paramount, so you can be assured that safety standards are extremely high and no chances are ever taken.
The provider of this experience is the only air operator in the Via Lattea authorised for passenger transportation and they take their job very seriously whilst making it a most unforgettable experience.
The pilots are highly trained and experts in their field and manage the landing zones at high altitudes with in-depth knowledge of the area in which they operate. As mountain flying experts, they handle flight manoeuvres and landings on summits, working closely with the guides for the best track options and drop-off zones for your particular trip.
The helicopters are fully fitted with the necessary equipment and kits, such as radios and GPS satellite phones, for all scenarios and possible emergencies.
The guides and ski instructors are qualified professionals, highly skilled with many years of experience and ample off-track skiing know-how. They will wow you with the most breath-taking pathways and hidden gems on fresh powder, as free ride experts.
The right stuff
Your own gear is best, as you are familiar and comfortable with it, but make sure it's the right stuff for the white stuff!
Whether you will be skiing or snowboarding – the right ski boots/snowboard boots AND powder skis and poles, and snowboards are required.
Snow helmet, goggles and sunglasses
Correct clothing and layering – base layer and outer shell, and microfleece layers in between.
Ski socks, hat/beanie, gloves and neck warmer.
At the end of the day
You will be giddy (in a good way!) from the experience for days, so we recommend you take to the hot tub to recover from all the exertion and excitement, and tell the tales!
On that note, make sure you book - with Go Montgenèvre - a chalet/apartment that features a hot tub (or even a sauna) - you will be glad you did, when you are soaking in the bubbles.
Inspired? Take action!
Go Montgenèvre have been inspiring holiday-makers heading to the Alps since 2006. Get in touch with the mountain holiday specialist today for guaranteed adventures, Hautes-Alpes.