High Altitude Summer Playground: Wish you were here…
Summer in Montgenèvre and surrounds brings a plethora of Alpine pursuits! The outdoors this time of year makes it the perfect multi-leisure destination that will cause you to stop and smell the flora and take in the cleanest and greenest of air and environment - a sensory overload - that will make you feel alive!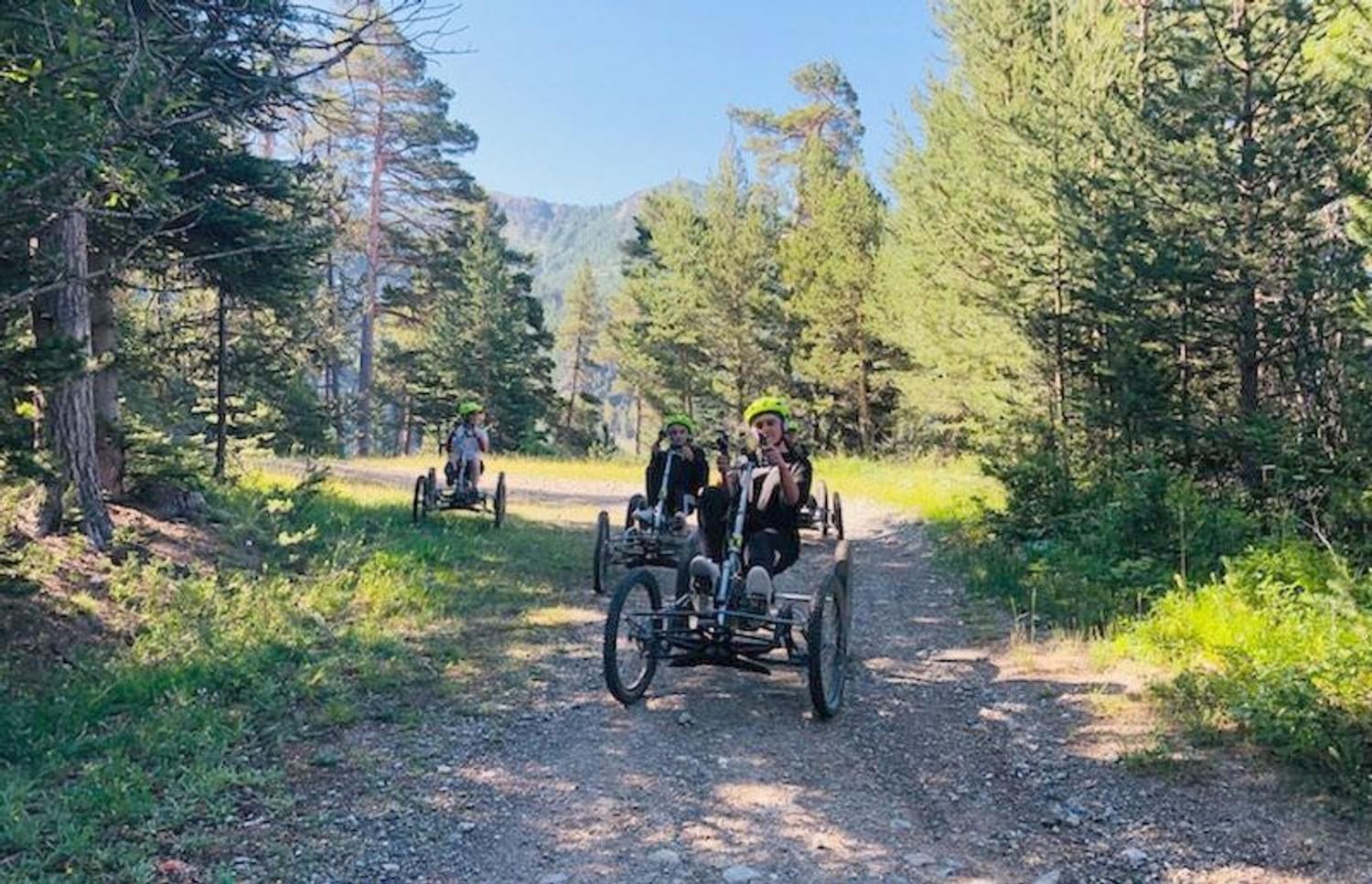 Playtime!
Quad biking with a difference
If you haven't ever adventured on a 4-wheel mountain bike, you need to have a go!
To experience this unique bike hike against a backdrop of the Alps, well, it's one for memory making. Sit back and relax, well almost – it's safe and sturdy and great fun, so you'll forget about all the effort in the peddling. These eco-friendly 'quad bikes' are easier to handle than a motorised ATV quad bike, so you will get to grips with your new mode of transport in no time. You'll appreciate your surroundings on this all-terrain, earth-friendly 4-wheeler, fuelled only by effort and a little sweat!
The starting points are accessed by organised transport, where you will alight and descend the trails on the quads, raring to go. It is a great activity for families with slightly older kids (from about 10 years/1.45m tall).
Sledding in the sun
Our unique 'Monty Express' Toboggan is open in the summer months. This thrilling attraction will have you squealing with delight, no matter your age! Hold on to your sun hat as you zoom through the bountiful larch forests, curving and leaning around bends, through tunnels and over bridges - you will be on the edge of your seat to the very end of the 1,400m ride. Little ones can accompany adults on this must-do mono-rail joy ride, making it the perfect pleasure pursuit for everyone. Go on and live a little! For further information, read our blog of 8 April.
Casting a line, Hautes Alpes
Spend the day fishing for as long as you like (or until you make a catch or hang up your hook and have to tell the exaggerated story of who got away!).
Local fishing sites are easy to find in and around Montgenèvre, with lake fishing and river fishing along the Durance. A single permit is required, which we will help you obtain.
he gateway to golf
Play 18 holes at altitude, on the border of France and Italy! Another unique activity you will remember during your holiday with us. Start in France at the Montgenèvre International Golf Course and finish the last 9 holes in Italy at Claviere's Golf Club. This very special course, created in 1923, preserves the traditions of this classic sport, with the surrounding natural landscape playing a prominent role.
Anyone for Tennis?
Montgenèvre Tennis Club is the picture-perfect place to play tennis. It is home to a number of courts, on the edge of the Sestriere woods.
The high of trekking on horseback
The Clarée Valley is where you want to head, or equally, for the hills - along the tracks through the mountain forests. All excursions are led by the local stables, who are also set up for young families to enjoy this authentic leisure pursuit too. Discovering the local area on hoof is a real treat and one you'll really appreciate.
In for a wild ride
Recreational rafting at La Salle-les-Alpes is an exhilarating venture, not just for the faint-hearted - it's thrilling fun for the whole family in fact. Have complete confidence in your guide that will teach and lead you through the calm of the water and the rush of the whites.
Depending on the ages and abilities of those in your raft there are varying trips you can partake in, such as the 'discovery', 'integral' or 'sport' descents.
Aquatic activities on the lake
Soak up the sun and fun at the 'multi-leisure zone' at the lake, with some idle paddling - or if you would rather row for a workout - it is totally your choice of pace when it comes to these leisure water sports. There's canoeing, kayaking, stand-up paddle boarding and mini-boats and pedal boats. Lakeside, there is also trampolining, volleyball, soccer and a play park. Something for everyone and you can be sure lots of energy will be consumed – and ice cream too!
Your summer pursuits can be planned and booked with our knowledge and know-how – it will be our pleasure to help you make the most of your time here. Leave the practicalities to us - leaving you the time to simply enjoy every moment of your high-altitude holiday. GO MONGENÈVRE: Alp's holiday specialists, family-run, who leave no stone unturned.