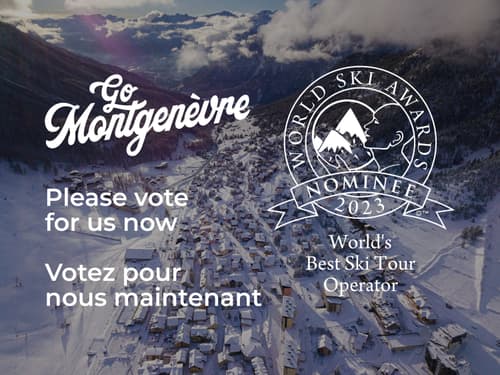 Montgenevre
Montgenèvre offers excellent holidays for both summer and winter.
Right on the Italian border, Montgenèvre dates back to pre-Roman times and served as an ancient passage between Italy and France. Montgenèvre is an idyllic, charming French village bathed in 300 days of sunshine a year. Its height means the snow comes earlier and stays later.
Montgenèvre has all the facilities of a modern resort whilst retaining its traditional enchantment. The restaurants and bars here offer a range of traditional Alpine mountain fare and popular classic dishes. These are complimented by the local shopping and weekly market.
The ski slopes of Montgenèvre are particularly well-suited to beginners and intermediates. There are a total of 59 slopes, covering over 100km of pistes being served by 38 swift lifts. Of the pistes, 25 are beginner runs, 23 are intermediate runs and 11 are advanced runs. The ski resort has several long runs, the longest topping 7km. A cheap day extension gives you access to 400km of slopes in the Milky Way – a vast ski area stretching to Clavier and Sauze d'Oulx in Italy.
The winter season at Montgenèvre runs from December through to April and the resort has an excellent Snow Sure record, with the 2017/18 season being one of the best for decades. But this season isn't out of the ordinary; aMontgenèvre consistentl ranks among the top 6 resorts in France for snow depth and quality. With 50,000m² given over to its nursery area, Montgenèvre is rated as one of the best mixed ability resorts in Europe and has been given international recognition for conservation.
More recently, Montgenèvre is gaining a reputation as the host of European slalom, cross country, telemark and off piste events. The large new snow park and border cross courses along with a large off piste area provide excellent places to push yourselfwhilst the extensive nursery areas allow beginners to find their feet without being trapped in the village.
France: The village is only a 15 minute drive from the historic walled town Briançon. Europe's highest town at 1,250m, Briançon is full of history and art and is now a UNESCO World Heritage site.
The UNESCO protected Vallée de la Clarée with its stunning views and the largest cross country ski area in France is just 10 minutes from your door. In fact, one of our chalets is at the entrance to the valley itself. (Look at Chalet Amalka).
Italy: 15 minutes away is the small Italian town of Cesana Torinese with its stunning high street and a collection of well-priced restaurants. Beyond are the historic towns of Oulx, Exilles and Susa. Why not ski in Italy? Your Monte Del la Lune lift pass gives full access to the resort of Claviere adjoining Montgenevre and also one free day into the resorts of Sestrieres, San Sicario (with its Olympic Bobsleigh) and Sauze D'oulx.
Montgenèvre offers excellent holidays for both summer and winter.
Right on the Italian border, Montgenèvre dates back to pre-Roman times and served as an ancient passage between Italy and France. Montgenèvre is an idyllic, charming French village bathed in 300 days of sunshine a year. Its height means the snow comes earlier and stays later.
VILLAGE & HISTORY
Montgenèvre is a small village and resort situated at 1,850m on the French side of the expansive Milky Way ski area. In comparison to many other areas it has a great snow record, remains very reasonably priced, and has convenient ski to your door slope accessibility. The ski resort dates back to 1907 and in February 2007 Montgenèvre celebrated its centenary as France's oldest winter sport resort by organising its first international ski competition. Montgenèvre remains less known than other ski areas and is therefore quieter during peak periods. The best time to visit Montgenèvre is during the week when queues are non-existent.
Montgenèvre is more than just winter and summer sports. It boasts a fascinating history withmany historical landmarks. Destroyed by the Duke of Savoie's troops then rebuilt during the 18th century, its architecture is of typical Italian inspiration. The characteristic church tower with its "fanal" is the exact copy of the oil lamp hung up to the original bracket which guided the lost travellers through fog or snow storms. The restoration of its 19th century frescos was finished in December 2005 and the church was restored in 2006.
THE "OBÉLISQUE NAPOLÉON"
Built at the limit between Italy and France to celebrate the end of the work done on the Montgenèvre road, and raised in honour of Napoleon, it was inaugurated in 1804.
NOTRE DAME DES 7 DOULEURS CHAPEL
"Notre Dame des Sept Douleurs" chapel. In this restored chapel, an engraved stone (dated from 1780) can be seen on the wall. The Santiago shell painted above the entrance door honours Santiago for his travel to Compostella.
SAINTE ANNE CHAPEL
Another chapel recently restored is the St Anne chapel to the entrance of the village, on the Italian side and St Roch chapel, along the ancient Roman way.
HISTORICAL FORTS:
LE FORT DU CHABERTON
Due to its history and location, Montgenèvre is surrounded by numerous forts.
Located on the border between France and Italy, the village has witnessed many conflicts. The most noticeable fort is without doubt the FORT DU CHABERTON, also named the "Fort des Nuages" (the Forts of the Clouds). At an altitude of 3,135 meters, it is one of the highest forts in Europe. Built between 1900 and 1914, the summit had to be mined to make it 6 metres smaller. Over 300 workers were needed to build this technical and complex fort.
8 turrets make up the visible part of the building but the majority of the fort remains subterranean. On 10 June 1940, Mussolini declared war on France and on 21 June the French troops posted in the surrounding forts bombed Chaberton and its resident 320 men.
In 1957, the fort was emptied of all its weapons and now remains a highlight climb for many hikers.
THE GONDRANS FORT
The FORT DES GONDRANS, built from the 19th century onwards, is a group of batteries and blockhouses meant to defend the heights of Briançon from the Anges pass.
THE JANUS FORT
The FORT DU JANUS was built between 1886 and 1903 on the Janus mountain. A subterranean building more than 900 meters long which extends the Ligne Maginot, was added between 1931 and 1937. During summer, we can organise a visit to the fort.
1
Contact the reservations team
Start by speaking to our friendly reservations team, based in both the UK and in France (in either English or French) telling us what you are looking for.
2
We turn your wishes into a tailor-made holiday
Our experienced team will suggest the best options for your group and preferred dates, using our exclusive list of accommodation, our local representatives, private instructors, suppliers and fleet of private vehicles.
3
Confirm and start getting excited!
Secure the reservation with a 50% deposit, the balance is due 6 weeks prior to arrival and there is a 1.5% booking fee. Full terms and conditions here.